The Federal Farm Credit Banks Funding Corporation is an integral part of the Farm Credit System, a leading provider of loans, leases and services to rural communities and U.S. agriculture. The Farm Credit System is a government sponsored enterprise, created in 1916 and dedicated to assuring a steady source of financing to qualified borrowers. The System touches everyone's daily life by financing operations that provide America with high quality agricultural products and services.
As the Farm Credit System's fiscal agent, the Funding Corporation is responsible for issuing and marketing debt securities to finance the System's loans, leases and operations.
The System has a unique and highly successful cooperative structure. As a cooperative network, ownership begins with our borrowers. Farm Credit System Associations (Associations) offer loans, leases and financial services to qualified borrowers. Farm Credit System Banks (Banks) provide capital to those retail Associations. In addition, CoBank (one of the System Banks) provides direct financing to large agribusinesses, cooperatives and rural utilities.
The Funding Corporation issues highly rated notes and bonds on behalf of the four Banks of the Farm Credit System: AgFirst FCB, AgriBank, FCB of Texas and CoBank, ACB and partners with a select group of dealers to market and distribute the securities to investors in the United States and around the world.
The Funding Corporation also manages the System's investor relations program, meeting with current and potential investors to educate them on the System's mission, current financials, debt issuance patterns and overall agricultural and credit market conditions.
In addition, the Funding Corporation provides consulting, accounting and financial reporting services which include the preparation of the System's Annual and Quarterly Information Statements and serves as the System's disclosure agent.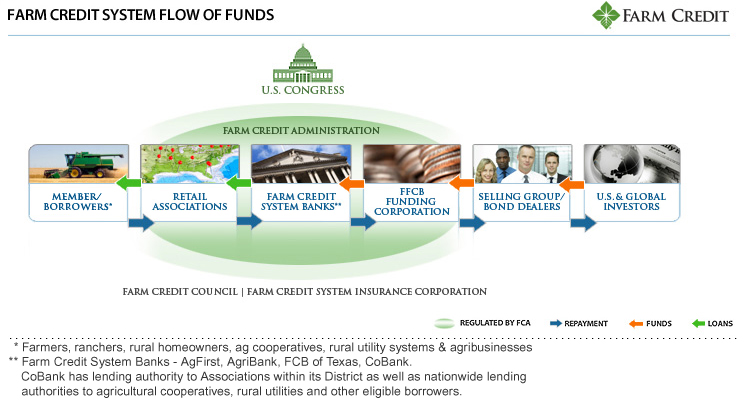 OUR CULTURE :
The Funding Corporation is committed to diversity and inclusion in our people and our business. We firmly believe the foundation of our success and our ability to regularly exceed our stakeholder's expectations lies in our ability to build and sustain an environment that recognizes the talent, insight and experience of a diverse workforce. The Funding Corporation has taken proactive steps to recruit a diverse group of employees with the talents and skills to contribute to the success of our organization.
At the Funding Corp, we believe that encouraging a variety of ideas, backgrounds, experiences, and origins makes us stronger as a company and as individuals. We are committed to providing opportunities for all employees to engage and contribute their skills and perspectives to our organization while realizing their personal and professional goals. It is the policy of the Funding Corporation to provide a work environment for all employees that is free of discrimination and harassment based on color, national origin, sex, religion, age, disability status or any other status protected by law.