IPG Mediabrands was founded by Interpublic Group (NYSE: IPG) in 2007 to manage all of its global media related assets. Today, we manage over $37 billion in marketing investment on behalf of our clients, employing over 8,500 marketing communication specialists in more than 130 countries.
IPG Mediabrands is a new world agency group designed with dynamic marketing at its core. Our speed, agility and data smarts ensure we continue to create growth for many of the world's biggest brands. IPG Mediabrands' network of agencies includes UM, Initiative, BPN and Orion Holdings as well specialty business units including Magna Global, Cadreon, Ansible, Society, Reprise, Rapport and the IPG Media Lab.
IPG Mediabrands. Dynamic by Design.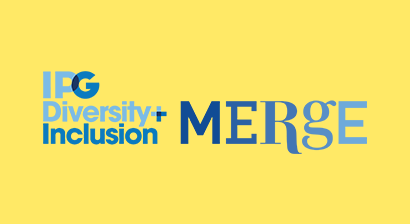 MERGE
MERGE is a diverse group of colleagues from IPG corporate and agency offices who are working to bring people together in support of diversity and inclusion in the workplace and marketplace. MERGE includes national and local Business Resource Groups (BRGs) as well as national and local MERGE councils comprised of the leaders of all BRGs.
All U.S. IPG corporate and agency employees may register for the MERGE website and have access to exclusive benefits:
• Learn about MERGE Councils and affinity-based Business Resource Groups About MERGE
• Sign up to get involved in MERGE Council/BRG committees or to be a MERGE ambassador for your agency Register
• Access exclusive tools and programming resources for leaders of MERGE Council/BRG projects and committees MERGE Groups
• Access tools to identify and create successful mentoring relationships Mentoring Matters
• Download information, tools and guides to learn about Diversity + Inclusion issues and power your career
• Keep track of and register for programs
• Set up a profile in the participant directory so MERGE can tailor communications to your interests
• Search the participant directory using keywords to connect with colleagues by region, affinity group, and agency
• Enroll to participate in programs and workshops on topics such as mentoring and sponsorship
• Access unique offerings such as free online subscriptions and research