.Founded in 1889 as New Mexico's flagship institution, the University of New Mexico now occupies nearly 800 acres along old Route 66 in the heart of Albuquerque, a metropolitan area of more than 900,000 people. From the magnificent mesas to the west, past the banks of the historic Rio Grande to the Sandia Mountains to the east, Albuquerque is a blend of culture and cuisine, styles and stories, people, pursuits and panoramas.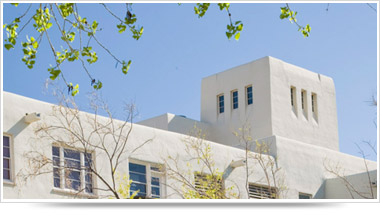 Offering a distinctive campus environment with a Pueblo Revival architectural theme, the campus buildings echo nearby Pueblo Indian villages. The nationally recognized campus arboretum and the popular duck pond offer an outstanding botanical experience in the midst of one of New Mexico's great public open spaces.
Message from Vice Chancellor for Diversity, Dr. Romero-Leggott
"Diversity is an evolving concept that emphasizes inclusion and respect of individuals and groups from different racial, cultural, cognitive, linguistic, ethnic, geographic, gender, and socio-economic backgrounds. Diversity as a core value seeks to cultivate better outcomes through the use of different collective narratives and histories, heuristics, perspectives, world-views, and belief systems."

The HSC's commitment to addressing health and educational disparities is evidenced by the creation of HSC-wide Office of Diversity (OoD). The OoD is responsible for a full panoply of programs addressing faculty diversity, linguistic and cultural competence, K-20 educational pipeline, research data and analyses, family involvement/community engagement, and leadership on issues of inclusion and equity.

The Vice Chancellor for Diversity (VCD) oversees the HSC Office for Diversity and provides leadership to conceptualize, define, develop, assess, nurture and cultivate diversity, inclusion, and health equity as both an HSC and UNM Health System institutional identity and resource resulting in widespread educational benefits and measurable health and healthcare value