Mission and Goals
Westchester Community College is more than just the county's largest educational institution. It is a living, breathing part of Westchester that goes beyond the influence of a typical college and affects the lives of all who enter its doors.
History
Westchester Community College was founded in 1946 as the New York State Institute of Applied Arts and Sciences in White Plains. In 1957, the County of Westchester bought the 360-acre John Hartford estate in Valhalla and designated 218 acres for the community college.
Enrollment
There are approximately 13,000 full- and part-time college credit students. Continuing education students bring the total number served by the college each semester to more than 24,000. Precise statistics about the college's enrollment history can be found in the Institutional Research & Planning pages.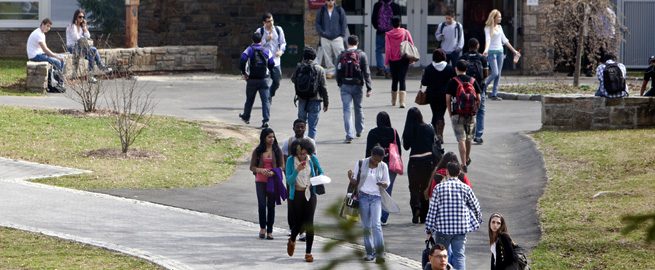 Diversity and Inclusion
Westchester Community College has an outstanding record of fostering an atmosphere of cultural diversity inclusion. In fact, the mission of the college focuses on providing accessible, high quality and affordable education to meet the needs of our diverse community.
In 2009, the college was honored with a Northeast Regional Equity Award from the Association of Community College Trustees (ACCT) making the college eligible for the prestigious Charles Kennedy Equity Award. The purpose of this website is to provide an overview of the many initiatives at the college that have been implemented to meet the needs of our diverse service area.
We understand that diversity enriches lives and the educational experience. Therefore, we strive to create a supportive environment where there is respect for all people and their individual characteristics or perspectives, such as ethnicity or race, socioeconomic status, reli